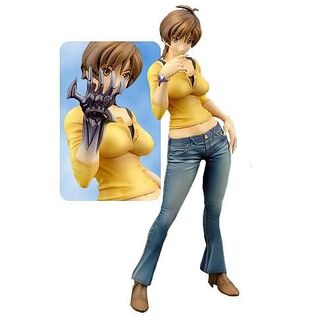 Masane Ahama Painted PVC Figurine.
Amaha Masane Plain Clothes Figure
Produced by Alter
Maybe she should get her nails done. Masane Amaha's got the pleasant curves to round out those tight fitting jeans and unbuttoned blouse, but stand clear of her vicious right hand! From the anime remake of Top Cow's action-packed series Witchblade, comes this extremely lifelike Masane Amaha 1:8 scale PVC statue. She comes with an interchangeable right hand and claw you can employ as your/her mood dictates!
Masane is wearing her tight-fitting unbuttoned midriff-revealing blouse and blue jeans to accentuate her appealing figure. And, you can squeeze her chest! The figure's upper torso is made from a pliable plastic that can be jiggled ever so slightly. So, what do they feel like? Only you can find out! This statue is expertly detailed by Alter for adult fans of Witchblade.