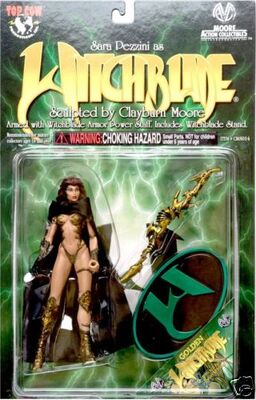 The Witchblade merchandise market is overlooked by Top Cow Productions, yet there is room in modern economy where merchandise goes unregulated.
Where copyright is concerned todays internet makes it very difficult for merchandisers to keep tabs on what products are real and what are using copyright infringements.
During the 15 years of Witchblade there has not been many items of great market value for Top Cow in terms of merchandise excluding comics.
On ebay there are items such as resin models, and Top Cows "Moore Action Collectables".
Unlike Marvel and DC whos markets have saturated everything with printable surface (simular to Matt Groenings 'The Simpsons') Witchblade has created a sales team which in 5 years time will look something simular to that of 2000AD and the Judge Dredd Franchise.
The Japanese PVC Resin [Kits] portray various Witchblade Characters from the anime series
Top Cow has partnered through advertising t-shirts for their comics franchise, including Witchblade, with a t-shirt clothing company based online called Swagdog.com
Wizk!ds Games' Hero Clix have created two different Witchblade figures for their game. The full Witchblade with host in armor and the Sarah Pezzini character with Witchblade Gauntlet.
Several American Garage Kits have been released for the western version of Witchblade, including action scenes and a bust.