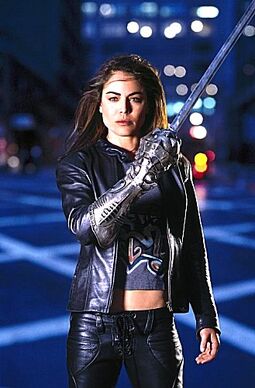 The Televsion series of the Witchblade by TNT lasted two seasons before the show was cancelled. It is available on region 1 DVD, and on iTunes in some regions.
The show starred Yancy Butler as Sara Pezinni.
The pilot was premiered in August 2000.
The first episode aired June 12, 2001; the last episode aired August 26, 2002 and there were 24 episodes in total including the pilot.
On January 20, 2017  NBC announced that it would be developing a Witchblade television series, with Carol Mendelsohn and Caroline Dries serving as executive producers.
Ad blocker interference detected!
Wikia is a free-to-use site that makes money from advertising. We have a modified experience for viewers using ad blockers

Wikia is not accessible if you've made further modifications. Remove the custom ad blocker rule(s) and the page will load as expected.