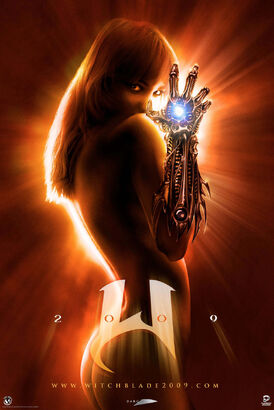 The Witchblade has been confirmed by Top Cow Productions that a movie will be available for fans to watch at cinemas.
A Witchblade movie website was uploaded to the worldwide web with a suggested release date of 2009, although this was not fulfilled.
The movie is in early development with the choice of director, Micheal Rymer, and Top Cow staff working on a final script.
Platinum Studios and Darclight Films will produce the movie whilst Summit Entertainment is at hand for distribution.
No actors or actresses have been chosen.
Internet Rumours
Edit
There have been rumours on the internet who will play the lead character with very little script confirmed apart from what the fans know about the Witchblade through reading comics.
It is still unconfirmed if a female detective will use the ornament to fight crime, but Megan Fox and Angelina Jolie are popular themes for rumours amongst Witchblade fans on the Internet.
It is also questionable by fans how successful the film will be with recent comic films such as Spiderman and Xmen making blockbuster smashes, will there be room for another comic hero movie?
Internet Sources
Edit
Top Cow President On 'The Witchblade' Movie, Matt Hawkins:"It's very different from the book."
 http://www.topcow.com/boards/lofiversion/index.php/t43559.html
Comic Vine catches up with the President of Top Cow!
[[1]]
Witchblade 2009
Ad blocker interference detected!
Wikia is a free-to-use site that makes money from advertising. We have a modified experience for viewers using ad blockers

Wikia is not accessible if you've made further modifications. Remove the custom ad blocker rule(s) and the page will load as expected.